AUDIO VIDEO - A/V SYSTEM INSTALLATIONS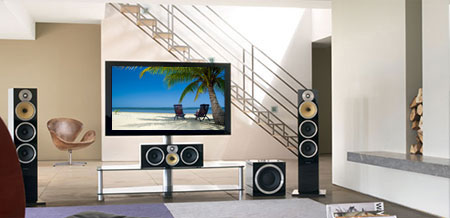 Our commercial or home audio and video installation covers Background, Foreground, DJ's or Karaoke music. Videocom installs brand name systems like BOSE, JBL, Tannoy, QSC, Crown, DENNON and other top of the line brands.
Videocom assures audio & video installation quality systems for any application including home entertainment systems. Whether a bar or restaurant, retail store or large events, or just your living room home theater, Videocom audio video equipment installation is ready to provide you with the right products for all your audio video av installation needs. We are excited to take any opportunity to install an audio stereo or surround sound systems as well as video plasma or LCD display systems that will enhance your business or residence. Our systems would strive to create an aesthetically pleasing environment from both a visual and audio perspective.

Each Videocom A/V system including speakers and audio amplifiers is selected with care by our system specialists to ensure an excellent optimization of the audio video equipment. We can integrate A/V systems from a vast array of top audio-video manufacturers and provide solutions that work best. We can offer even balanced sound with multiple volume controls in different areas of your business or rooms of your residence for local control and easy use from an operational standpoint.
While music and dining seem to be an excellent match, we strive to deliver an audio system with even sound coverage and distribution of speakers at carefully chosen locations to minimize echo and delay effects. Our audio zoned sound system would create a relaxing dining, would enhance your customers overall dining experience.
HOME ENTERTAINMENT SYSTEM INSTALLATION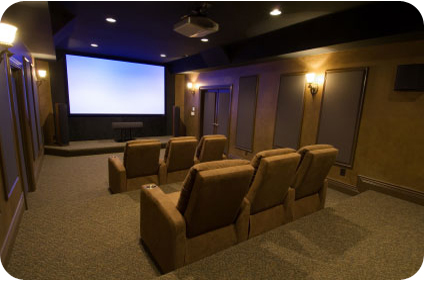 If your are looking for a new HDTV home theater system for watching your favorite sporting events or the latest blockbuster DVR you can call Videocom for a free site survey and estimate.
Our Audio Video expert technicians will work with you to create a unique home entertainment solution best fitted to your environment. READ MORE»
GYM AUDIO VIDEO SYSTEMS INSTALLATION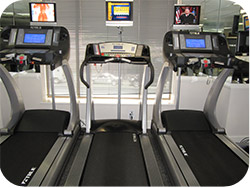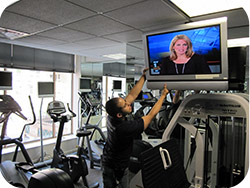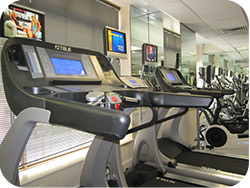 Videocom is working with Property Management Companies in providing Audio and Video systems installations in Gyms at their properties in New York City and beyond.
Videocom has installed and serviced the audio video GYM system at Knickerbocker Building in New York City.