LCD FLAT PANEL MONITOR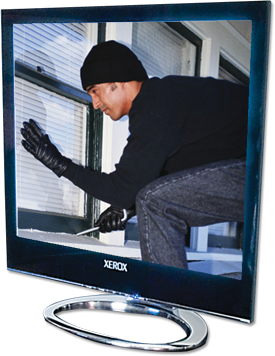 Monitor performance: The 19" LCD Monitor features 1440 x 900 pixel (WXGA+) resolution, 1000:1 contrast ratio and a 300cd/m2 brightness rating . BrightView technology delivers brilliant picture quality.
Fast response: The 5-millisecond response means that this monitor can keep up with fast-moving video.
Highly adjustable: Swivel this monitor easily from side-to-side when sharing the screen. Or tilt this monitor from -5 to +25 degrees to find the perfect view.
Easy to use: With just a touch, My Display enables adjustments of brightness, color and contrast.
Connection options: The digital interface ensures a sharper, cleaner image and a more accurate representation of the original video source. The 15-pin D-sub input lets you connect to an analog source.
LCD TOUCH SCREEN MONITOR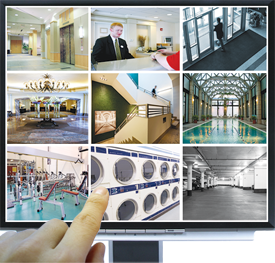 The 19 " LCD Touch monitor is designed, developed and built to provide touch screen solutions for security systems. It packs quality and reliability into an integrated touch monitor.
Such monitor was installed by Videocom at Arris Lofts in Long Island City, New York.
Features
Entry-level monitor display
"Designed for touch" features such as a stable tilt base
Long-lasting product cycle
Sealed touch screen
Dual serial/USB interface
Removable base and mounting option
Mounting holes on base bottom for tabletop security
Controls on the side not on the front and lockout function for public use
Digital on-screen display (OSD)
PUBLIC VIEWING MONITOR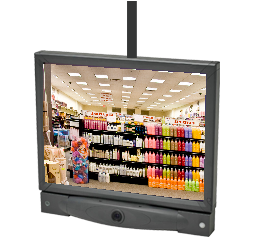 20- inch LCD panel, built-in camera, PIR sensor, light sensor, and multimedia card.
Videocom installs Public Viewer Monitors in Malls, such as the one shown was installed at Beauty Plus Salon at Danbury Mall in Connecticut.
Designed as a stylish surveillance tool, the Public Viewer Monitor is a 20 inch LCD-display with a built in micro-camera wide dynamic range PIR sensor, and ambient light sensor. When motion triggers the PIR sensor, the monitor switches from showing advertisements or other multimedia stored on a memory card to displaying the view form the security camera.
Videocom installs Security Monitors for Corporate America.
Either Desktop in a network or Wall Mount in Manager's Office these devices provide not only security but also help in monitoring employees in the working place. Our goal is to conceal all the wires in the walls or ceilings.
This monitor was installed by Videocom in the Manager's Office at Pierre Michel Salon in New York City.