INTERCOM SYSTEMS
Videocom installs and services Intercom Systems in the areas of New York, New York City - Manhattan, Flushing, Long Island, New Jersey and Connecticut. Our intercom systems installation use crisp, clear audio or video communication products; they are designed for Co-ops, Condos and Apartment Buildings. Our entry intercom system need to match a tenant's lifestyle, must be reliable, simple to use and economical to install. READ MORE -WATCH VIDEO»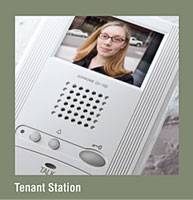 TENANT STATION

Our Multi-Tenant Entry Security System offers simple hands-free tenant stations; it provides unparalleled reliability, and is backed up by excellent technical support. This systems can accommodate up to 500 tenant units. READ MORE»
DOORMAN STATION / SECURITY GUARD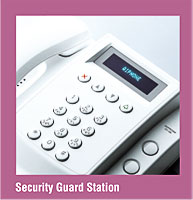 Up to 4 security guard stations. All calls from entry panels can be routed through the security guard station(s). The security guard station can allow visitors to enter or transfer calls to the tenant(s). All calls to the security guard station display the name of the party calling, and up to 20 missed calls can be stored. READ MORE»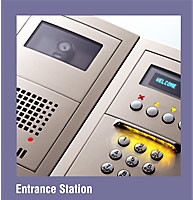 ENTRANCE STATION
The digital scrolling entry panel allows visitors to easily find tenants by name or unit number(directory search by first letter is also available). Tenants are able to enter their own welcome message. Up to 160 alpha numeric characters can be used to greet visitors and give instructions on the entry's panel. READ MORE»
Multi-Tenant Audio, Audio-Video Intercom System
The Multi-Tenant Entry Intercom system is a direct connect system that does not require an outside phone line at the tenant location and will never incur additional phone company charges. The system improves security by requiring individuals to be at the tenant station to answer calls and grant access. It also offers guard stations, open voice communication, and tenant monitoring of the entry.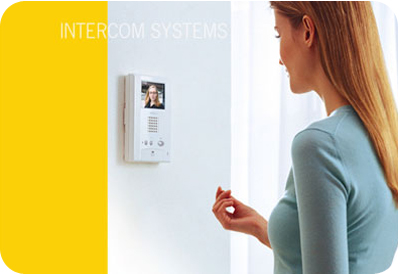 Applicable in most industry markets:
Residential: Single-family homes, gated entries, housing developments and multi-tenant buildings with individual entrances.
Commercial: Office buildings, retail stores, parking garages, front and rear entrances and employee only areas.
Educational: Primary and secondary schools, collage campuses, main entrances, service areas, and faculty areas.
Government: Local, state and federal government branches, courtroom security, airports and embassies.
Health care: Hospitals, medical clinics, nurseries, pharmacies, and staff lounges
Multi-Tenant Telephone Entry Intercom System
If the existing wiring of your intercom system is too old - not reliable any longer, and it is too costly to be replaced the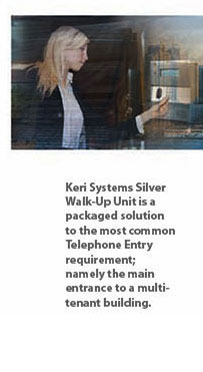 best option is to install a Telephone Entry Intercom System.
This system provides two way communication from the street main entrance or vestibule of a lobby to an apartment by using a dedicated telephone line "pay bill" or a LAN "no pay bill" intercom system, whether the resident has Central Office phone service or not. The resident can use either a dummy touch tone or cellular phone to communicate with the family, delivery person or visitors at the main door and/or vestibule of the lobby of the building. The resident has the capability by pushing a telephone or cell button to buzz in a visitor.
We can even provide a "call down" feature that enables the resident to contact a doorman, manager or security office by pressing just 2 numbers on their touch-tone phone. 
By equipping the system with a Tracker expansion boards, forced entry and door ajar alarms can be added to the system.  For high rise buildings, an elevator control module can limit residents and their guest to specific floors only – a must for the highest level of security.
| | | |
| --- | --- | --- |
| 1837 Surface | 1837 Flush | 1837 Wall Mount |
| | | |
The Model 1837 is an ideal telephone entry and access control system suited for medium to large apartment and gated community applications as well as office buildings and industrial sites.  
The eight-line LCD display features big 1/2-inch characters for easy viewing and your personalized message appears on the screen when the system is not in use.   Our unique "One Touch" CALL button makes this system one of the easiest to use on the market today!   The built-in electronic directory, easy to use Remote Account Manager programming software, card reader interface and expendability options make this unit an ideal choice for those applications with a large number of system users and entry locations.   Up to 16 card readers can be interfaced with the 1837 to provide access control.   Additionally, our elevator control module restricts which floors a guest or system users have access to, making it an ideal system for high rise buildings.   For additional security, the 1837 allows you to monitor activity AS IT HAPPENS on your computer display (requires RS-232 connection), and with our anti-pass back memory, you can enable a TRUE anti-pass back system in one of three different configurations; passive, active and trap.  
The 1837 is available in three distinct styles: Surface mount, Flush mount and Wall mount.   Contact our professional staff for more information about this product.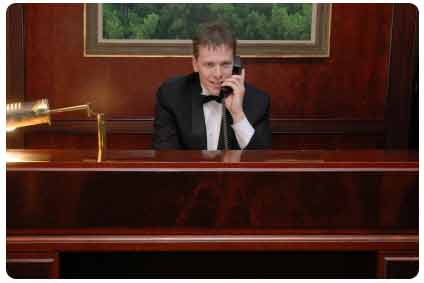 A combination between "no pay bill" on Line 1 and "pay bill" on Line 2 will benefit the building due to the fact that Line 1 can be used for the Telephone Entry System and Line 2 can be used for calling 911 or any other emergency call. Customer can avoid high phone bills by enrolling into a "unlimited phone calls" plan with the telephone service provider, like Verizon, RCN, Comcast, etc.