Point of Sale Systems Installations: Restaurant POS and Retail POS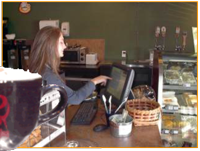 Our software and POS system installation choice for restaurant POS and retail POS is rated # 1 two years in a row by Hospitality Technology Magazine. Videocom POS system provides cost-saving capabilities for beyond what you can expect from a conventional cash register or generic POS system. We offer the full functionality of more expensive systems at a cost-effective price.
Our restaurants POS systems and retail pos system are fast and easy point of sales systems with the features most desired by retailers and restaurants.
The restaurant POS is a touch screen pos system that provides fast operation and accurate order taking and detailed reports with an easy-to-use interface. Table service and fine dining restaurants, fast food establishments, coffee shops, pizza parlors, cafeterias and all other type of restaurants will find the features they need within our POS solutions software. The POS cash register software has dozens of features in a package that is easy and affordable enough for independent restaurants and capable of sharing data between multiple restaurants.

Easy - Our POS register software is the easiest for restaurants and retail stores. Train your servers in as little as 60 SECONDS to place orders and close out checks. The colorful touch-screen interface walks servers through each transaction, helping them place each order easy.

Fast - Fast order entry is critical. Quick service will make lines moving faster, resulting in happier customers With our POS display you will spend less time inputting orders and more time helping your customers.

Organized – The kitchen is the busiest area in most restaurants. Errors in preparation can cost precious time and money. Our POS terminal prints orders from pos computer clearly in the kitchen. More demanding environments use RPE and kitchen display system to speed the service and enhance productivity by routing orders to the proper preparation areas, flagging tardy orders and displaying items as they are rung into the register.

Detailed – The detailed reports built into software provide the numbers you need to help you make smart business decisions. The computer pos software for small business pos provides comprehensive sales reports help you determine how much money you're making. Reports that list your best and worst selling items, combined with a shopping List report.